- - - - - - - - - - - GETTING THERE - - - - - - - - - - -
How do I get to Paros?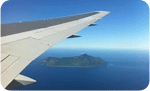 A. If you're landing in Athens:
1. Catch a flight (1 or 2 flights per day) for Paros with
Aegean Airlines
. Flight duration: 30 minutes. One way fare: between 40 and 100 euros.
2. Catch a ferry from either Piraeus harbour (45 minutes by cab or 1 hour and 15 minutes by shuttle bus from the airport) or Rafina harbour (35 minutes by cab from the airport). Trip duration: between 2 hours and 45 minutes to 4 hours, depending on the ferry. One way fare: between 25 euros and 40 euros, depending on the company.
Note: if you spend a night down town Athens, the port of Piraeus is 30 minutes away by subway by cab. If you're looking for accomodation in Athens, do avoid Omonia area and prefer the safe and lively area of Plaka.
B. If you're landing in Mykonos or Santorini:
catch a fast ferry for Paros. Booking & Timetables on www.greekferries.gr
C. If you're landing in Crete:
a super fast ferry (Flyingcat 4) sails daily at 09:30 from Heraklion to Santorini, Ios, Paros, Mykonos, return.
Do I need to book my ferry ticket in advance ?
Yes, it is advisable to book in advance at peak vacation times like Easter, Whitsunday and during July & August. Outside these dates, you may purchase them at the ticket booth, on the ferry dock.
How do I get to the port of Piraeus?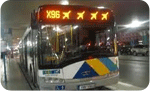 By shuttle bus, taxi, subway train.
A.
Direct express shuttle X96
will take you to Piraeus in about 1 hour and 15 minutes, depending on the traffic. Ticket price: 6 Euros (buy your ticket at the booth between exit 4 and 5 at Elefthérios-Venizélos Athens aiport).
B.
Taxi cab
will take you to Piraeus in about 45 minutes, depending on the traffic. Approximate fare: 50 Euros.
C.
By metro.
The airport is connected to and from the airport and Piraeus (change at Monastiraki station to Metro Line 1) by Metro Line 3. Trains operate every 30 minutes (:00 and :30)to and from the airport. The journey time to Piraeus is 60 minutes. Ticket single fare: 8 Euros.
Note: apart from the obvious port of Piraeus, ferries also sail from Rafina, barely 35 minutes away from the airport.
How do I get to the port of Rafina?
A.
By taxi
, 30 minutes away by taxi from airport. Approximate fare: 35 Euros.
B.
By bus
(KTEL), 40 minutes away from airport. Ticket price: 3 Euros.
Where can I book ferry tickets?
For Greek islands ferry schedules and tickets booking,
follow this link
.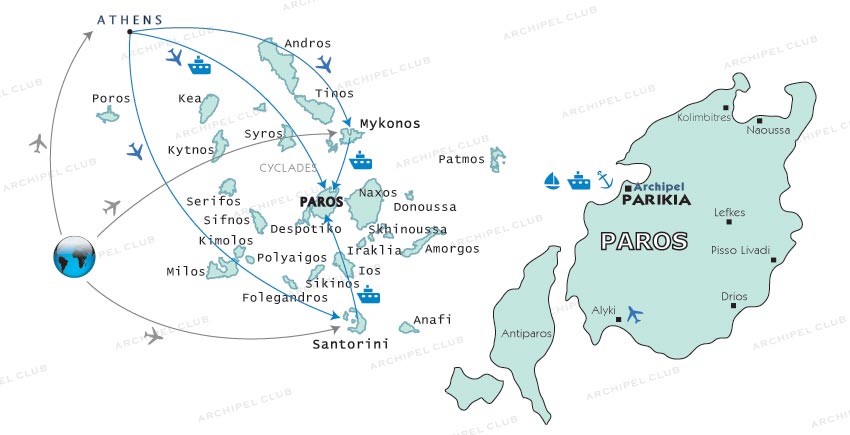 GOOD TO KNOW

Landing in Athens before 14:45, you may board the Blue Star or Highspeed ferries for Paros on the same day, departing from Piraeus at 17:30.


The Blue Star ferry offers deck access. Kids love it!


Highspeed, Sea Jet and Flying Cat ferries have no deck access.


In the event of a gale warning, the smaller Sea Jet is likely to be canceled before other ferries.


Boarding on our boats takes place in Paros at 11:00. You may arrive from Athens on the same morning with the Blue Star or Highspeed ferries.
LAGOON 420 CATAMARAN
What is the group size?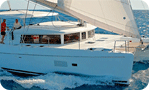 Our Lagoon catamaran can accomodate up to
8 guests + skipper.
Are there any electric plugs on the catamaran?
Yes, the catamaran is equipped with an inverter, meaning that we have 2 AC plugs for recharging mobile phones, cameras or Ipods and operating small household appliances like a fruitblender. The yacht also has DC cigarette lighter plugs like in a car.
How are the cabins layed out?
The catamaran's four double cabins are identical, spacious and all with ensuite bathrooms. They consist of a double bed, shelves and drawers, a reading light, a wardrobe.
How are the ensuite bathrooms layed out?
Each bathroom offers a shower, a wash basin, a cupbord fitted with mirrors, shelves, a porthole and a marine toilet connected to waste tank.
Is there air conditioning?
Yes there is full air conditionning onboard.
BENETEAU 50 YACHT
What is the group size?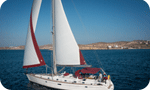 Our Beneteau 50 yacht can accomodate up to 8 guests + skipper.
Are there any electric plugs on the yacht?
Yes, the yacht is equipped with an inverter, meaning that we have 2 AC plugs for recharging mobile phones, cameras or Ipods and operating small household appliances like a fruitblender. The yacht also has DC cigarette lighter plugs like in a car.
How are the cabins layed out?
The yacht's four double cabins are similar. Cabins consist of a double bed (1,45 m X 2,10 m) with shelves and drawers underneath, a reading light, an electrical fan, a ventilation hatch and a porthole, a wardrobe.
How are the ensuite bathrooms layed out?
Each bathroom offers a shower, a wash basin, a cupbord fitted with mirrors, shelves, a porthole and a marine toilet connected to waste tank.
Is there air conditioning?
There is no need for air conditioninging as there is almost everyday in summer a cool notherly breeze in the Cyclades islands. For the rare hot days, each cabin is equiped with a fan.
Does it feel crowded if the boat is full?
It is true that the Lagoon 420 catamaran boasts a very spacious deck. But that really matters only when the weather is really calm or at anchor, when everyone's either swimming or gone ashore. Our cabin charter sailing trips combine fun sailing in the morning with the afternoon visit of a different Greek island every day (relaxing onboard, sightseeing, beach, exploring ruins, dinner ashore etc). In fact the "crowded" feeling on the Beneteau 50 may only occur under way during short periods, if and when all the guests may want to sit in the cockpit, instead of lounging on deck, basking in the sun. Both boats offer a lot of privacy with their comfortable cabins and en suite bathrooms, with the Beneteau procuring down-below a somehow comfier saloon.
- - - - - - - - - - - THE CREW - - - - - - - - - - -
Our captain's qualifications
Our skippers are experienced high seas guides with additional training for mastering our yachts. Their extensive navigation experience of the Aegean has gained them esteem and respect in the Greek islands.
Which languages does the captain speak?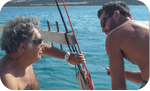 Our skippers speak several languages, mainly English and Greek. On the majority of our cabin charters, captains do speak French as well.
What about food and drinks?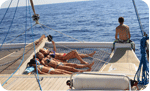 A kitty is built on first day in order to cover all shared expenses, which are the meals onboard and ashore, drinks, skipper's meals, fuel, water, port dues, end cleaning of the yacht. We hardly spend more than 240 euros per person per week. The captain is the bookkeeper, having all invoices at ready for perusal. Of course, we make no profit on the common kitty!
How does the boat provisioning work ?
2 or 3 of the fellow crew members -including yourself if you wish :-) will do the grocery shopping (the kitty covers this shared expense), we provide a shopping list for those who fear to get lost in the Greek food shelves! Of course you may re-supply in most islands. If you suffer from any food allergy or have any diet requirement, please let your captain know.
Does everyone have to dine at same venue and have same fare ?
Regarding dinners, it is not obvious to find the best food on your own as most of waterfront establishments are either too expensive for what they sell or too bland or too unimaginative. We run a constantly updated list of the best restaurants/tavernas in each island where we dine with our customers and take great pride at introducing them to the specific culinary specialties and wines each island has to offer. Of course we try to please everyone and accommodate all taste buds or diet requirements. If you let the skipper know you wish to dine on your own, he will be more than happy to indicate you an alternative restaurant (if there is one, since most villages we visit are pretty small!) and pay you back from the kitty, the 14 Euro per meal.
Do you carry snorkeling gear onboard?
Yes, we do have flippers of various sizes, in a deck locker. For reasons of cleanliness we do not provide snorkels nor goggles.
Do you provide with sheets?
Sure, we provide with bed linen and bathroom towel (but not with beach towel).
Can you explain the tasks we will share?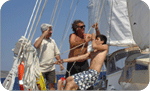 Sharing a yacht means one partakes at running the boat: provisionning, preparing breakfast & lunch, washing dishes, keeping the galley clean, helping the captain sailing and docking the boat. That said, these are all simple tasks that people share and are fun. All in all they take very little time and unless you are hyperactive, basking in the sun watching the sea is what you will do most of day on the boat, while once ashore you will be going snorkeling or discovering the islands. The crew members on board share their time and skills: some cook, others pull ropes, others do the dishes or chop up a salad, the captain makes sure the chores are done smoothly and in a fun way.
What would be a typical day onboard the yacht?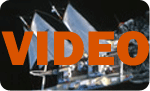 Swim or walk, breakfast, fresh food provisioning if needed
Sailing (average of 2 to 4 hours per day), lunch onboard and swimming
Lunch onboard and swimming
Arrival around 3 pm, visit of the island or relaxing onboard
Dinner ashore in a Greek taverna with or without your crew mates, evening leisure time
How do you make up your charter with regard to age and interest compatibility?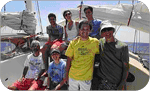 We're usually able to make enough personal contact with each of our guests to have a clear picture of how to match them with a team they'll find compatible.
Because of the vacation mode, style and cost, all our customers are reasonnably fit, they enjoy open air activities, understand the meaning of propriety on board a sailing yacht and finally end up having a lot in common. Furthermore the fact that they embark in such a shared boat vacation more than implies they are willing to be flexible (within reason) and have the greatest fun. We've been involved in this kind of cruises for over 10 years now, some of our guests became friends for life while actually few people got married! One of the keys to success is that our new boats ensure a lot of privacy as all have en-suite private bathrooms with individual companionways and boast 700 square feet of deck space. Finally our skippers know how to manage group dynamics in order to ensure a seamless vacation for everyone onboard.
When and where do we start our sailing cruise?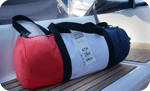 During high season (July & August), boarding takes place on Wednesdays at 11 am on the catamaran and on Thursdays at 11 am on the yacht.
Our boats are docked in the yacht harbor of Parikia, in Paros (300 yards from the ferry dock). This allows you to arrive by plane or ferry the very same day in the morning and weigh anchor early in the afternoon. Thus, you do not loiter in harbour.
You will receive all embarkation information 1 month prior departure.
How long before we sail do I need to arrive in Paros?
If you are flexible on dates and want to smoothly settle into the Greek islands life, arriving in Paros the day before boarding the catamaran is a good option. Otherwise, it is fine to arrive in Paros the very same day of departure (our sailing trips start on Fridays); at least 2 ferries from Athens and the islands arrive in the morning allowing you to meet us at 12 noon on the boat.
What time does the catamaran/yacht weigh anchor?
Meeting time on the boat is 11 am. The boat leaves around 12:30, once everybody onboard is settled and ready.
What is the itinerary?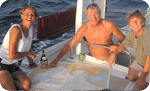 Our guests all time favorite itinerary options are:

Paros, Sikinos, Santorini, Folegandros, Polyaigos, Sifnos, Despotiko, Paros

Paros, Sifnos, Despotiko, Koufonissi, Amorgos, Schinoussa, Antiparos, Paros

Paros, Syros, Mykonos, Delos, Donoussa, Amorgos, Schinoussa, Antiparos, Paros
What to make of guide book itineraries?
Itineraries drawn up by tourist guide books for the Greek islands are destined for travellers using public transportation such as large ferries who run schedules based on commercial profit, not on wind conditions or sightseeing interests. A sailing yacht would rather go after a strategy optimizing wind angles while maximizing pleasure and comfort on board. Furthermore one rather prefer calm spots with cristal clear waters to annoyingly crowded places.
Do you guarantee any of these itineraries?
Although, when planning, prevailing winds have been taken in account, exceptional weather conditions may force us to alter intermediate stop overs, for your safety and sailing comfort. Your captain will sit and discuss with you, with the week's weather forecast in hand, customizing precisely your route. While the sea is a demanding environment, your sailing cruise will be an instant success thanks to your good mood, your captain's excellence and an impeccable yacht. There are many must-to-see islands such as Mykonos, Sifnos, Amorgos, Delos, Ios etc and many choices of alternative great itineraries too!
What about the Meltemi?
Meltemi is the predominent northerly wind blowing in the Aegean Sea from June to September. Known since Ulysses times, this wind is a scarecrow for rookie sailors. But Meltemi does not necessarily mean discomfort, to the contrary without it's cooling qualities the heat would be scorching. There are just 3 rules to abide to:
be on a proper sailing boat (which rules out most production catamarans), thoroughly maintained.
local knowledge.
understand local meteorology and be able to plot accordingly an adequate itinerary.
At Archipel, we are proud to share with you our 50 years of experience at yacht charter in the Greek islands and our commitment to customer satisfaction.
What happens if the wind blows hard?
Specifically designed for sailing charter in the Greek islands under Meltemi conditions, our Pahi catamaran sails to her destination every day, providing safety and comfort to everyone onboard. However, rough weather sailing is not every one's cup of tea. This is why our skippers daily monitor long term forecasts, anticipating a blow and tailoring your itinerary according to your preferences. You may rest assured that whatever happens, you will not be stuck in port if you do not wish to!
What is the weather like in the Cyclades islands?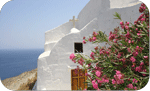 MAY - JUNE
Carpets of colourfull flowers drape the Greek islands, the days are long and you may enjoy walks without fear of sizzling in the sun. All the tourist infrastructure and transportation on the islands are operating but without the crowds. There maybe a few clouds in early may otherwise there's an average of 12 hours sunshine per day. Sea water may be felt a bit cool at 19°C. Average air temperature at 21°C.
JULY - AUGUST
Greece like in the post cards: cloudless skies and constant northerly winds that cool the air. Average of calm days are 3 per month and they are hot. Otherwise average air temperatures around 25°C and the sea at 20°C. Some destinations like Mykonos and Santorini gather large international crowds so make sure you reserve your ferry and air tickets in advance!
SEPTEMBER - OCTOBER
In the fall, crowds are gone home but good dry weather is still around! The strong summer winds have calmed down, summer heat is receding and just the sea water temperature has risen. All in all its a delightful season to visit the islands. To be frank, the only down side are the shorter days. There could be a few clouds and even more rarely rain in the first half of October, otherwise the average sunshine are at 9 hours per day, average seawater temperature at 22°C and air temperature at 20°C.
Over 50 years experience in crewed yacht charter in Greece
A friendly and expert team by your side until your disembarkation
Permanent skippers
for constant boat maintenance
Credit card
secure payment